On this page:
UQ Standard - improving the UQ Drupal platform
Improving the UQ Drupal platform
A major update to the centrally maintained UQ Drupal platform was launched in late April.  Known as UQ Standard, the platform streamlines site building using configurable components. Components provide a way to produce visually rich layout and added functionality. New features available in UQ Standard include updated content types and styling, displays for teams of people and automated people feeds which dramatically reduces the effort of maintaining staff profiles. To support the platform upgrade, UQ Standard classes begin this week, with online material being made available soon. 
UQ web publishing support
Networking 
ITS is facilitating a new UQ web publishing network to support staff working with the web at UQ to meet each other and share skills.  Meetings will be advertised via the Comnet email list.
UQ Library began the network in April with a presentation about topics such as developing and maintaining user-centred content, with 'Giving' content as an example. View the slides from this presentation.
The next meeting will be on the topic of coordinating a website transition, particularly how to engage stakeholders. Visit the session details for 31 May 2016.
If you have a topic or speaker you would like to recommend for a network session, please email Suzy Byrnes.
Video tours of the UQ school template
UQ Drupal users have requested video-based ways of learning the system.  In response to this, ITS have developed video tours around the school template.
Tour around the content and front end of the UQ school template
Tour the administration menu (back-end) of the UQ school template
---
New sites launched
Congratulations to all involved in transitioning their sites  to UQ Drupal in the past 2 months, including:
Global Strategy
Naevi Centre
CRE Reduce centre
Young Achievers
Earth Science's Period Table
Before and after transition
Have a look at the difference transition has made to the home pages of these schools.  The pages have become touch-friendly and allow students to interact via social media.  They have been made simpler and easier to navigate by prioritising a few items up the top and using broad terms in the main navigation.  The pages are longer and more vertical to support user behaviour on mobile.
These changes reflect trends in the way people use the web, particularly:
 
increasing use of mobile devices
higher expectations by users that publishers will make sites that are easy to use and attractive 
more reliance by some users - especially young users  - on social media for timely and authentic information and interaction.
Home pages can also be edited locally, and dynamically feature content in a way that was not possible on OCMPS -  providing content owners with more control and greater efficiency.  
 
 School of Social Sciences
Before
After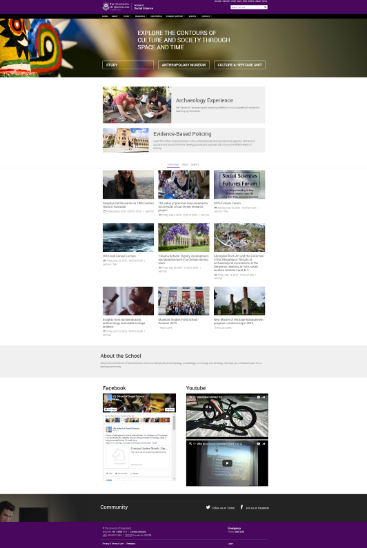 ---
School of Historical and Philosophical Inquiry
Before
After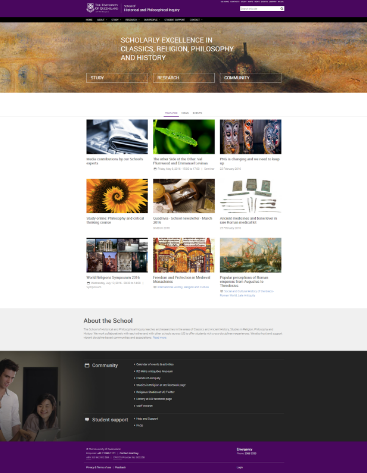 ---
School of Health and Rehabilitation Sciences
Before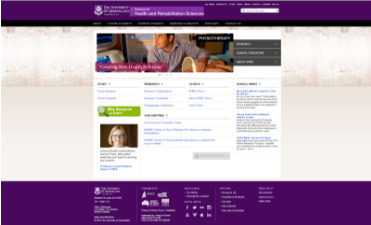 After