The "Main Menu" is used for both the primary and secondary navigation.
Primary navigation
The primary navigation displays the top level of the menu, and the first sub-level as a drop down, for the website. It is located at the top of the page directly below the global UQ header (purple strip).

Secondary navigation
The secondary navigation (or side menu) is located on the right-hand side of the page for content types that can be added to the menu, such as Basic Page and Structured Page. It also uses the Main Menu, but only displays the siblings and children of the current page. As you navigate deeper into the site the side menu changes to be contextual to the page you are viewing.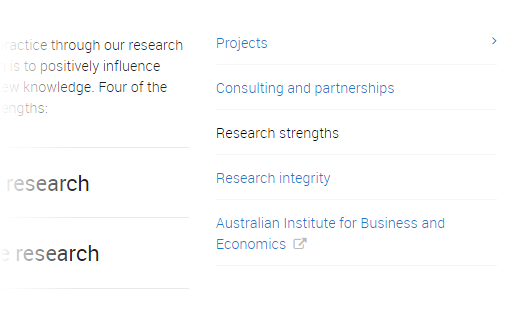 Sitemap
All pages added to the Main Menu will automatically be included in the sitemap, which is located at your-site.uq.edu.au/sitemap
Basic pages and Structured pages can be added to the menu when creating/editing the page, which is the best method of adding pages to the menu.
Menu links to external locations or to Panels pages can be added manually to the menu.
Step 1
In the administration menu, go to Structure > Menus > Main menu.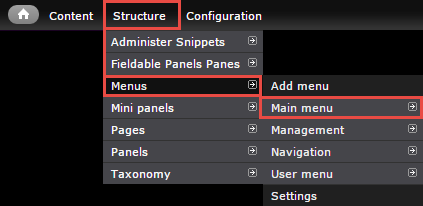 Step 2
To add additional links, click Add link.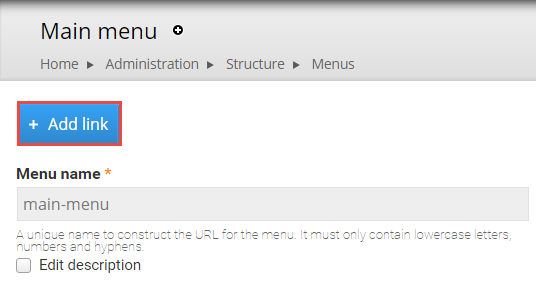 Step 3
Enter the required information and click Save.
Menu link title
Path - use a relative path for content on your site.
Description - Optional. Title text that will appear when a mouse is hovered over the link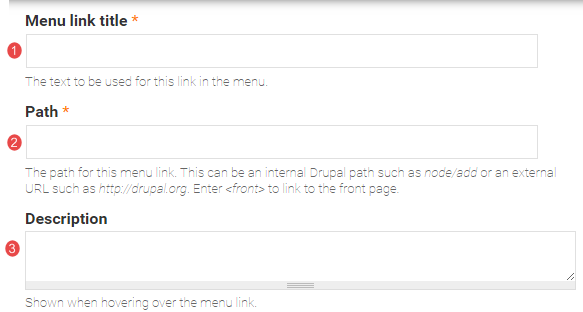 Enabled
Show as expanded - Tick if it is a top level link so that child links drop down when the user hovers over the menu link
Parent link - Choose which link in the menu this link should sit below

Weight - Determines the order of the menu links. Menu links with smaller weights are displayed before links with larger weights.  
Tip: It is easier to drag the links into position to change the order. See re-order menu links.

Step 4
The link is added to the menu. Return to Step 2 to add additional links, or click the home icon (

) to return to the homepage.
Step 1
In the administration menu, go to Structure > Menus > Main menu.
Step 2
The list of menu links displays. Hover over the link that needs to re-ordered and the mouse pointer changes to the move icon.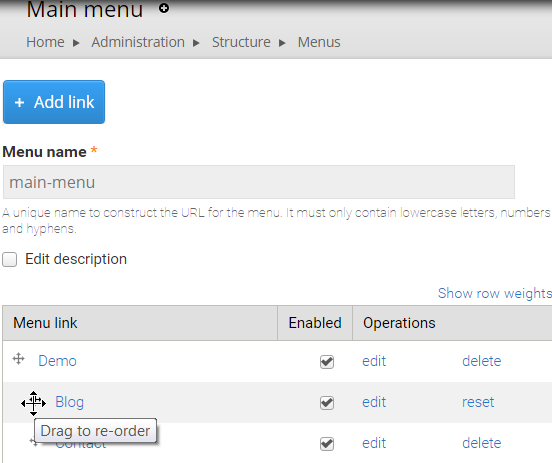 Step 3
Drag the menu link into position. This might be up or down to change order, or nest the link under another.
Save the menu.