Dear Stakeholders,
Another busy month has passed as we move into the final stages of the CMS Transition Project. We saw a lot of updates to the imported People profiles which are continuing to be refined with stakeholder feedback. The team are also very close to the first release of secure content. 
New Feature - Secure pages and files 
Due in the next release this feature will allow users to lock down content to a secure login group, such as all UQ staff, or an organisation's staff group. Secure pages are suitable for light intranet use, but does not replace a fully featured intranet, such as Sharepoint. 

New Web Publishing site first release launched
Support for web publishing on UQ Standard has launched on web-publishing.uq.edu.au. This is the first release of the training and resources for UQ Drupal and it will continue to grow over the next 3 months and beyond. For legacy support the drupal.uq.edu resource will remain until no longer required.
UQ Publishing Network  
Don't miss the next event 2 August 2016
Presentation by Senior Editor for The Conversation, Liz MinchinTopic: The importance of public and media engagement and how to pitch to get published. 
Professional and academic staff welcome.
New Sites launched
Congratulations to teams involved in transitioning to UQ Drupal sites recently, and to those who have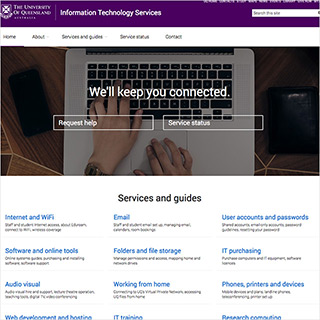 migrated into an existing site including:
Welcome, office move and Farewell
I'd like to introduce Greg Eaton who fills the role of ITS Team Leader Web Development, please welcome him as a key part of the web team. 
The CMS team will be moving offices from Gordon Greenwood to Seddon room C19 mid next week, please take note if you're heading over for meetings.
And many many thanks to you all as I say farewell today.  I've been grateful for the wonderful opportunity to lead the CMS Transition project and am proud of the results of both my immediate team and the wider community. I've loved working across the enterprise with so many talented people and I hope to run into many of you again. All the best and THANK YOU! 
Best Wishes,
Dee.