Component panes added to Panel pages by default use a pane style called 'No Title'. The Section pane style is a wrapper for each pane that adds additional fields and theming options. They allow content to broken up into 'strips' down the page to aid legibility and design.
Sections constrain the width of the component pane they wrap to the central content column. This is primarily used on full-width page layouts.
Some component panes such as the Hero Banner and Default page header are designed to display full-width and should not be wrapped in a Section pane style.
Only the Site Builder can change and edit the pane style.
Section pane style adds the following fields and theme options; all of which are optional or configurable.
Section title (heading)
Summary content
Footer content
Top and bottom spacing

Top and bottom can be configured separately
Default, large, extra large or no padding options.

Pre-defined background colour and textures
Background image

Optional parallax background image style. Suitable for images that show depth such as aerial or landscapes.

Section text colour (dark or light) - to provide contrast against the background options.
Section alignment layouts

Example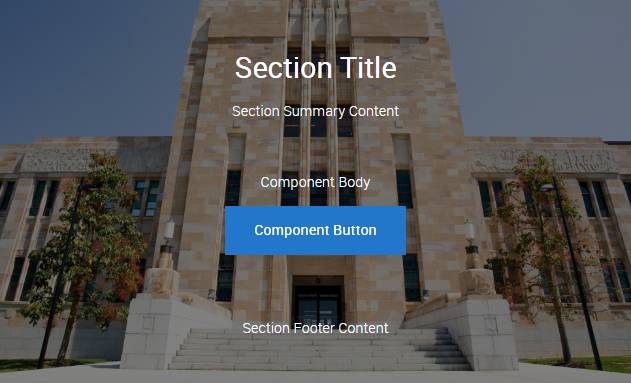 1. Using the Section pane style

Step 1

Click Customize this page to start editing the page.

Step 2

Click the paint brush button on the component to open the pane style form.

Step 3

The "Pane style" form displays. 

Selection Section
Click Next

Step 4

It is optional to enter content in the Style settings fields. The contents in the fields will display in the pane as shown in the image below.

Section Title
Title element - Select the heading style from the range h2 to h4. The default is h2.
Summary content
Footer content

​Background image (Optional)
Images should support the content. Avoid busy images that make the component content difficult to read. Aim to use textures or photos with a single point of focus.

​

Click

Choose file

 and select an image from your computer.

C

lick

Upload

Top spacing
Bottom spacing
Theme - If a background image was used, a dark or light tint can be applied to improve contrast for the Section and component pane content.

Text colour - The text colour selection only applies to the Section Title, Summary Content and Footer Content fields.  Select either light or dark text.
Components generally provide their own theme options to manage text colour.

Note: To change the colour of the content inside the section to light you will have to apply the css class light-palette to the component through the edit panel interface.

Layout
There are three (3) options for layout.

Single column, centred

Single column, left-aligned

Two column, left-aligned

Utility

Allow overflow - Used when a Section pane style wraps a component containing a drop down list that extends below the height of the Section, so that the drop down is not cut off. This has some design implications for tints used on the Sections so double check the display if using this option.

 Click Save to accept the pane style settings.

Step 5

The system returns to the panel page In-Place Editor. Click Save to complete process of styling the component.

The completed component displays.

Top of page