Step 1
Hover the mouse pointer over the right-hand corner of the Rich Text pane to display the Edit cog (
). Click the icon to display the menu and click Edit to open the Rich Text form.

Step 2
The configuration form for the rich text component displays.  
Title - do not edit the title of the component.
Body - edit to update the content.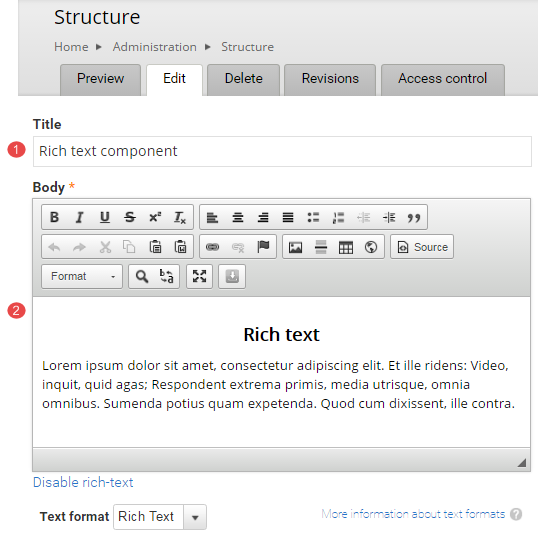 Click Save to accept the changes

This functionality requires Site Builder permissions.
Add a Rich Text pane. Instructions for adding panel components.
Step 3
The available components display. Click on UQ  category and then select the Rich text component to open the configuration form.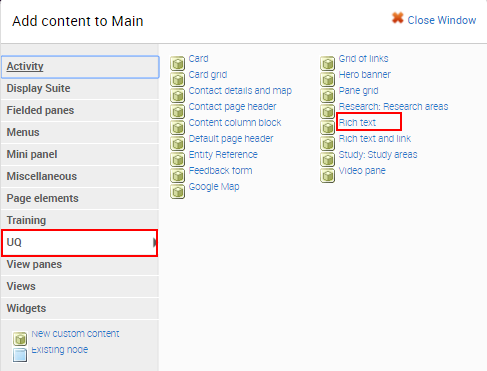 Step 4
The configuration form for the Rich text displays.
Title - insert a title for the component.  This assists in identifying the component on the Panel Content page.
WYSIWYG Editor - What You See Is What You Get. You can style the text and add rich media contents to your document in real time by using the editor toolbar buttons and dialog windows. The result will be seen immediately. You do not need to work with HTML code directly.
Enter text in the body field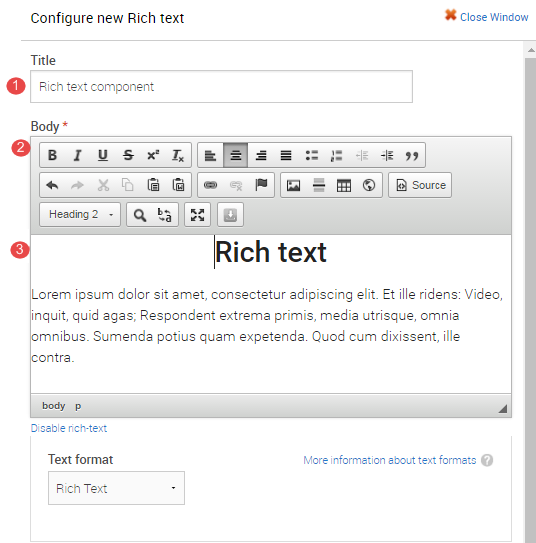 Click Finish to save the configured rich text component and return to the panel page.

Step 5
The system returns to the panel page In-Place Editor.  
Add Pane Styling to edit the display of the component on the panel  page.  Refer to the instructions, Add Pane Style.

Click Save to complete the process of adding the component.