The Hero Banner is a page title component for Panel pages. It outputs a <h1> element for the page title overlaying an image, and can optionally have 1-3 action buttons. Only one Hero Banner should be used per page and it should ideally be the first component on the page.

Step 1
Hover the mouse pointer over the right-hand corner of the hero banner pane to display the Edit cog (
). Click the icon to display the menu and click Edit to open.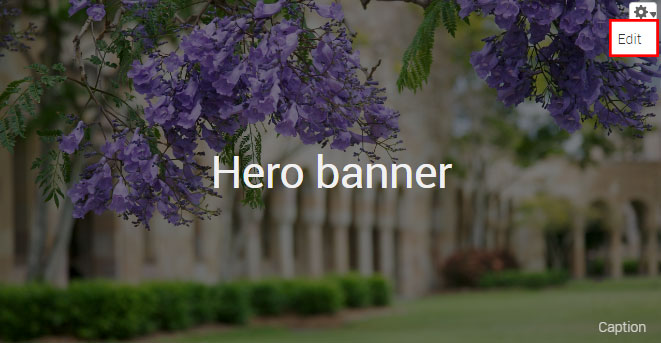 Step 2
The configuration form for the hero banner component displays.
Title - the title of the home page can contain a message. Words on hero banners on other panel pages should be minimised to one single words where possible.
Image - the minimum image dimensions should be 2560px X 560px.
Caption - for the purposes of attributing the image as per the copyright of the image.
Layout - select between the default and thin banner
Theme (tint) - choose between none, dark or light tint to overlay the image.
Text - depending on the selected tint, choose the text light or dark to ensure sufficient contrast between the text and image to improve legibility.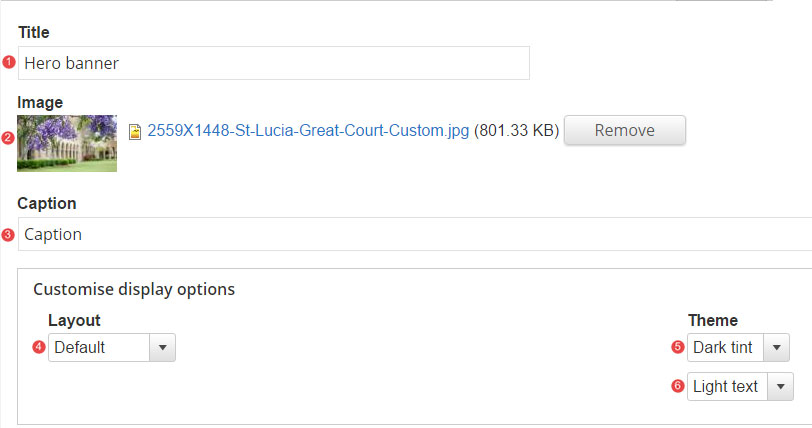 Links - insert relative path links when linking to content on the site. If required, select between 1, 2 or 3 links.
Save the changes.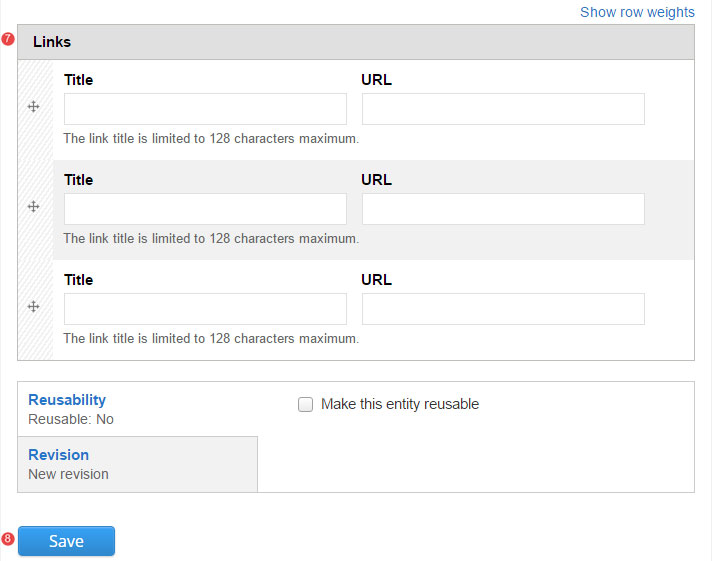 Step 1
Click Customize this page to start adding components to a panel page.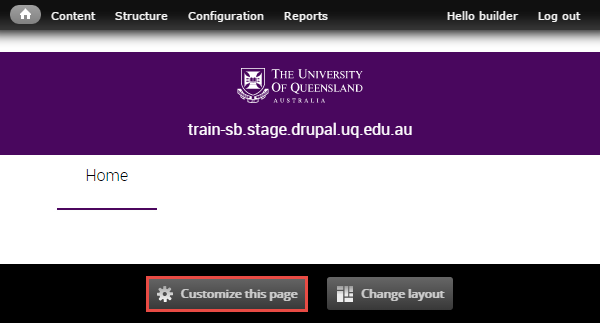 Step 2
The available regions where components can be added are displayed as blue shaded fields. Click the plus (+) button to open the list of available components grouped by category.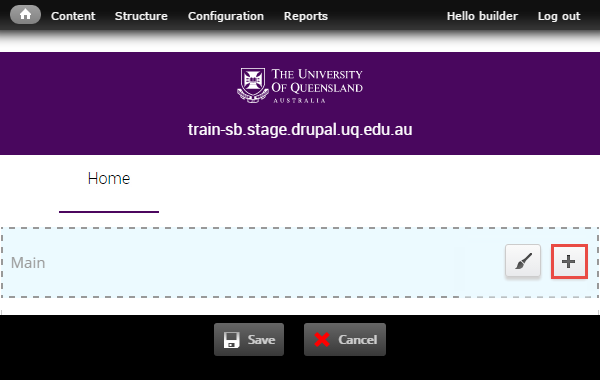 Step 3
The available components display. Click on the UQ category and then select the Hero Banner component to open the configuration form.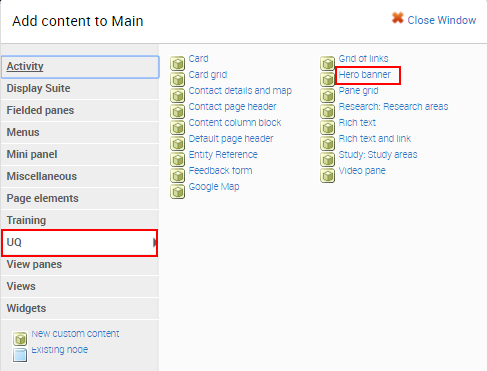 Step 4
The configuration form for the Hero Banner displays.  Complete the fields before clicking Finish.
Title - insert a title for the component
Image - select an upload an image from your computer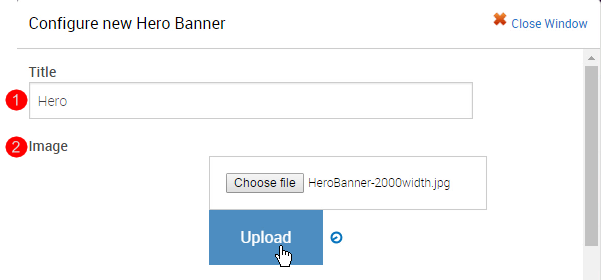 Layout - retain the default banner or select a thinner banner.
Theme - retain the theme or add a dark or light tint.
Text - retain light text or change to dark text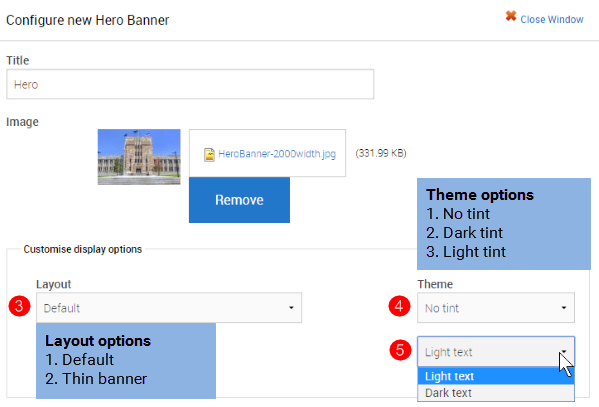 If the Hero banner has three links, insert the title and URL for the links and click Finish.
Tip:  Use a relative reference when linking to content on your website.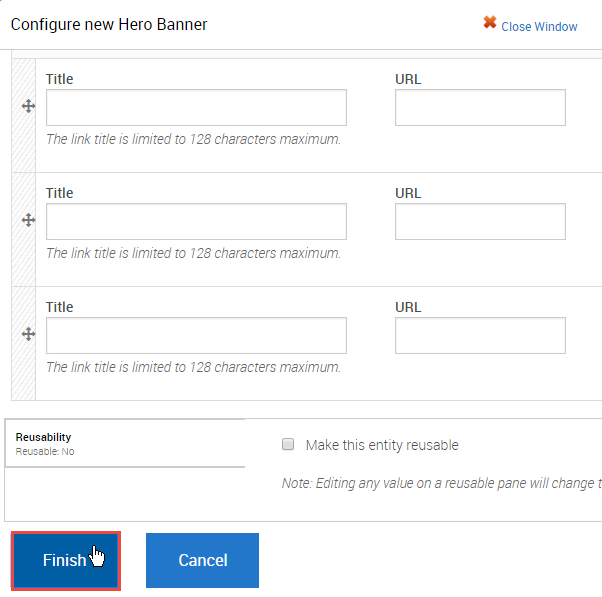 Step 5
The system returns to the panel page In-Place Editor.  Click Save to complete process of adding the component.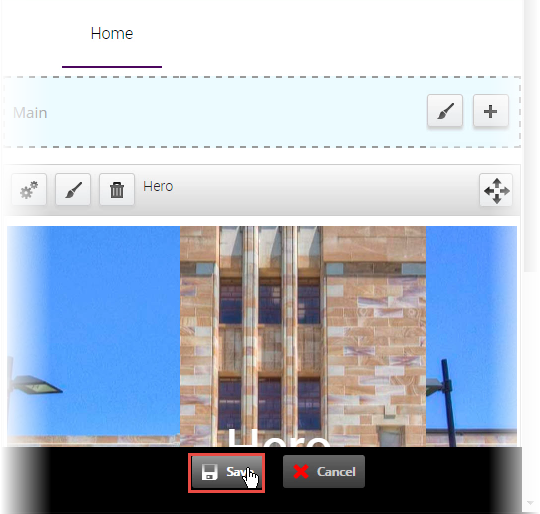 The completed component displays.