Display features
displays page title on a shaded background.

Step 1
Click Customize this page to start adding components to a panel page.
Note: the Customize this page button is available because the In-Place Editor renderer was selected when creating the panel page.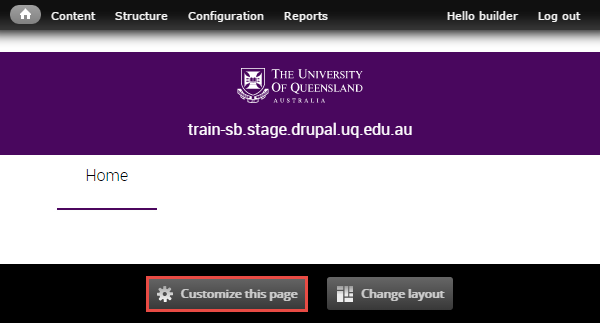 Step 2
The available regions where components can be added are displayed as blue shaded fields. Click the plus (+) button to open the list of available components grouped by category. 
Step 3
The available components display. Click on the UQ category and then select the Default Page Header component to open the configuration form.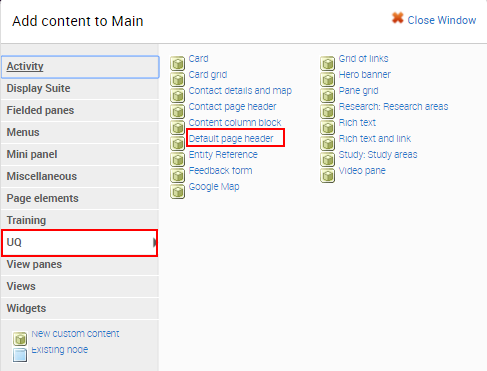 Step 4
The configuration form for the Default  page header displays.  Click Finish.
Note: The page displays the title recorded when creating the panel page.

Step 5
To add the required CSS, hover the mouse over the plus (+) button and the cog will appear. Click the cog and then click Edit Panel.

Step 6
Click the right-hand edit cog on the Default page header component. Click CSS properties.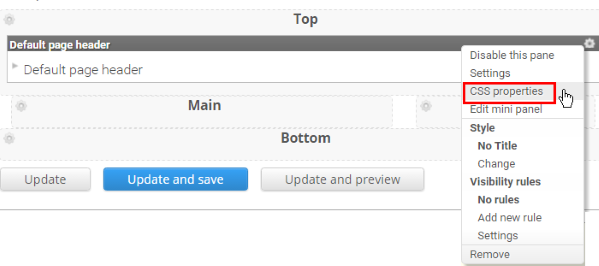 Step 7
Enter page__header(page underscore underscore header) in the CSS class field and click Save.
Enter page__header page__header--no-margin(no space between header and next component)

Step 8
Click Update and Save

The system returns to the saved panel page.