Links can be styled as buttons to bring more emphasis to them as primary actions on a page.
Generally, only 1 or 2 buttons should be used per page so the user has a clear action point. Do not use buttons for every link as this is not appropriate and leads to clutter that reduces the effectiveness of all buttons on the site.
Buttons can be added by the following methods:
Step 1
Highlight the text to be made into a button
Click the link icon on the WYSIWYG editor to open the link dialog window.

Step 2
The link dialog window appears. On the Link Info tab:
select the link type
insert the link path.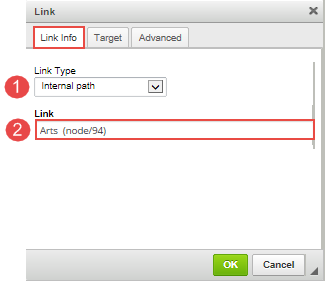 Step 3
On the Advanced Tab, enter button in the Stylesheet Classes field. 
Note: classes are case sensitive.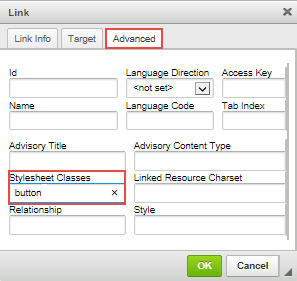 Step 4
Click OK and the button displays.
Note: the button width setting reflects the text width plus padding.

The button displays:
---
Making buttons display full-width
Right click on the button and select Edit Link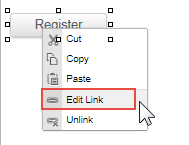 On the Advanced tab of the link dialog window, enter button expand in the Stylesheet Classes field.
Click OK and the button is saved. The button now displays at 100% width of its container.
Step 1
Click Source icon in the WYSIWYG editor.

Step 2
Insert the cursor in the location where the button will display. Insert the code of the button type.  In this scenario, the Default Button will be inserted using the code: <a class="button" href="#">Default Button</a>
The # symbol refers to the URL that will be inserted.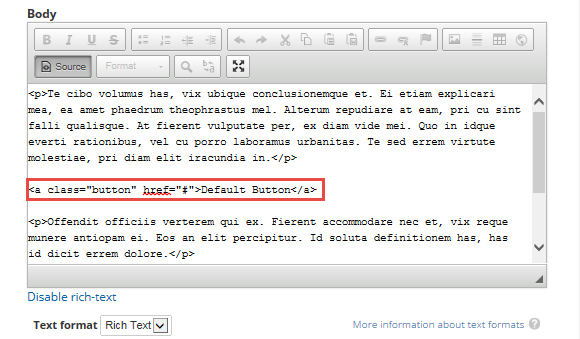 Step 3
Replace the # in the code with the URL that it should link to. In this instance, the # has been replaced with http://jobs.uq.edu.au/caw/en/listing/ and click Save.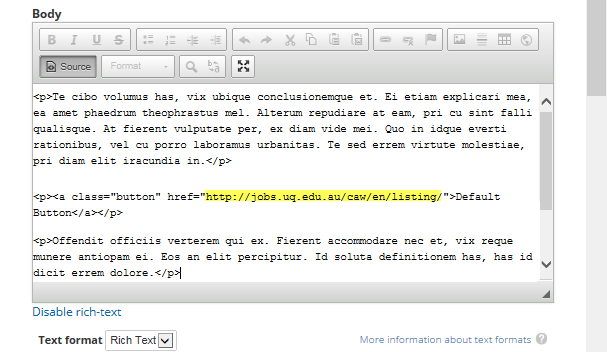 The button displays: